SBP terms PKR depreciation a feature of market determined exchange rate system
By Staff Reporter |

Mettis Global
Jul 20, 2022
July 19, 2022 (MLN): The State Bank of Pakistan (SBP) on Tuesday termed the recent depreciation of the Pakistani rupee (PKR) a feature of a market-determined exchange rate system.
While taking to its official Twitter handle, the central bank said, "The recent movement in the Rupee is a feature of a market-determined exchange rate system."
Under this system, the current account position, relevant news items, and domestic uncertainty together determine daily currency fluctuations, it said.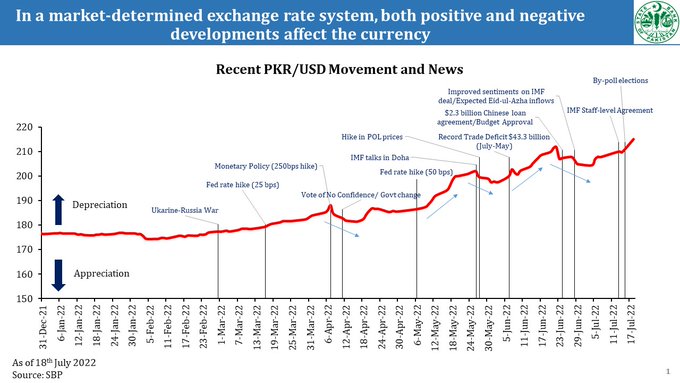 In a series of Tweets, the central bank explained the reason for PKR's free fall. "Recent Rupee depreciation against the US dollar is also in large part a global phenomenon," it noted.
Globally, the US dollar has surged by 12% in the last 6 months to a 20-year high, as the Fed has aggressively raised interest rates in response to rising inflation.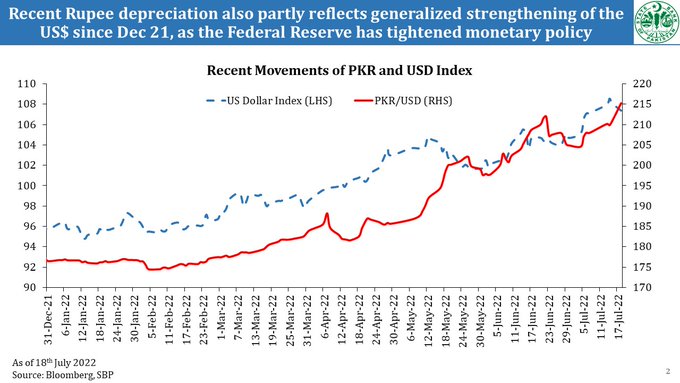 Like most advanced and emerging market currencies across the world, the Rupee has depreciated against the US dollar since December 2021. It has depreciated by 18% over this period, SBP further explained.
"In real effective terms—i.e. against a basket of currencies in which Pakistan trades & adjusting for inflation—depreciation in the Rupee since Dec 21 has only been 3%," it added.
According to SBP, this is a better measure of the strength and competitiveness of a currency than the US dollar rate.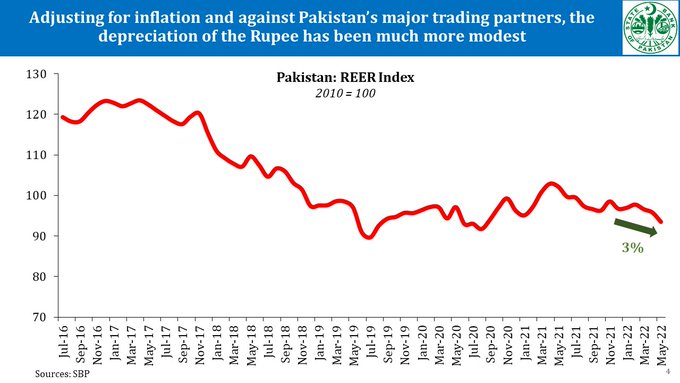 It is pertinent to mention that since the coalition government has taken a charge of the country, the local unit has dropped by around 38 rupees. In CYTD, the local unit plummeted by Rs45.47 or 20.49% against the USD while it registered a decline of 7.72% against the greenback in MTD.
During the last 52 weeks, PKR lost 27.37% against the greenback while reaching its lowest at 221.99 on July 19, 2022, and the highest of 161.22 on July 26, 2021, as per data compiled by Mettis Global.
Information in this article comes from third party providers. This website does not provide explicit or implied warranty for such information and is not liable for any losses directly or indirectly caused by using such information.